What's up, horror movie lovers! Our team just stumbled upon Werewolves Within, and we have got to say, it's one wild ride. If you're looking for a movie that'll make your heart race and your sides ache from laughter, this is it. Check out our full review below!
Werewolves Within Overview
First things first, let's give you a little brief on this movie. Werewolves Within is a horror-comedy film that was released in 2021. It's directed by Josh Ruben, who's known for his work on CollegeHumor videos and his role in Scare Me (2020). The film is based on a video game with the same name, and it features a talented ensemble cast, including Sam Richardson, Milana Vayntrub, and Michaela Watkins. Now, let's dive into the nitty-gritty details.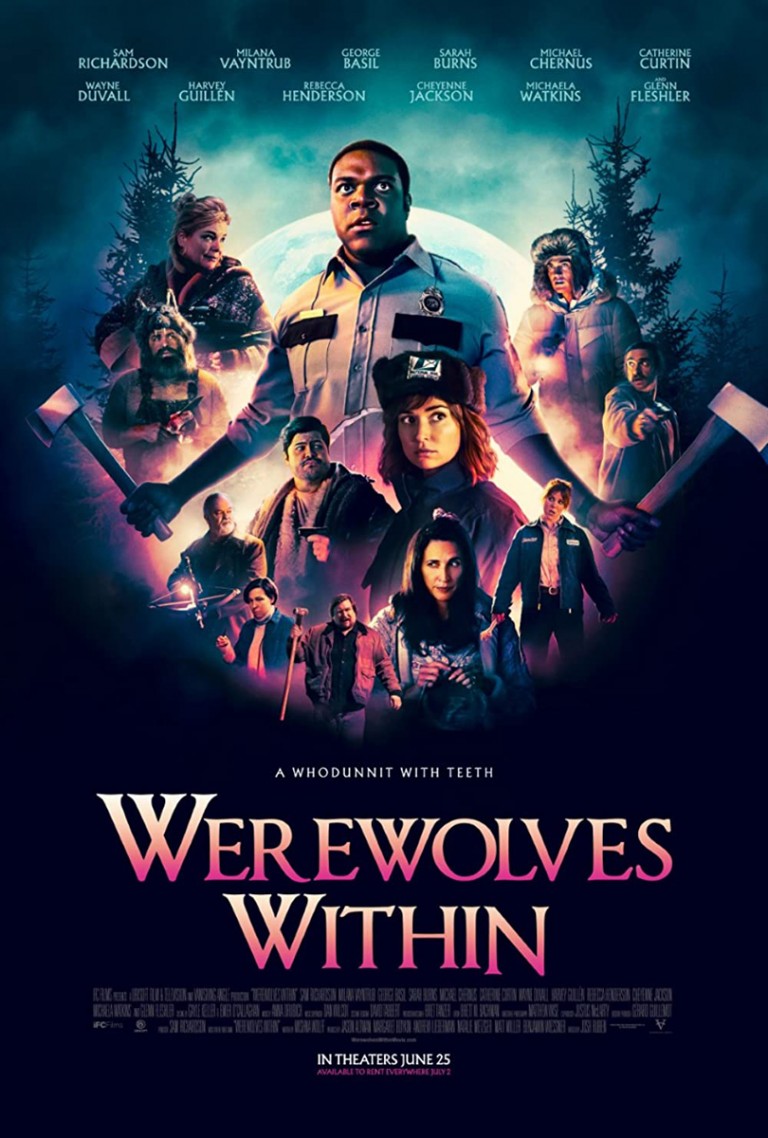 The Plot
The story takes place in the small town of Beaverfield, where a snowstorm has trapped its residents inside a lodge. As if being stuck isn't bad enough, a werewolf is on the loose and picking off the townspeople one by one. It's up to Finn (Sam Richardson), the new ranger in town, and Cecily (Milana Vayntrub), a postal worker, to lead the investigation and figure out who the killer is before it's too late. But as tensions rise and the suspects pile up, it becomes clear that anyone could be the werewolf, even Finn and Cecily themselves.
The Cast and Characters
One of the standout aspects of this movie is its cast, which is full of talented actors who bring their A-game to every scene. Sam Richardson shines as the lovable and awkward Finn, while Milana Vayntrub steals the show as the quick-witted and resourceful Cecily. Michaela Watkins, Harvey Guillén, and George Basil also deliver hilarious and engaging performances as some of the quirky townsfolk. As for the werewolf, we won't spoil it for you, but we will say that the reveal is both shocking and satisfying.
The Technical Details
Werewolves Within is a well-crafted movie that excels in all technical departments. The cinematography by Matt Wise is beautiful, capturing the snow-covered scenery and the eerie atmosphere of the lodge. The soundtrack by Anna Drubich is also spot-on, adding tension and humor where needed. But the true standout is the writing by Mishna Wolff, which strikes a perfect balance between horror and comedy. The dialogue is sharp and clever, and the jokes never feel forced or out of place.
Where to Watch Werewolves Within
If you're ready to sink your teeth into this movie, you have a few options. You can stream it on popular platforms like Amazon Prime Video, Google Play, Vudu, and YouTube, where it's available for rental or purchase. The rental price ranges from $3.99 to $5.99, while the purchase price is around $14.99. It's also available on iTunes, but it's only available for purchase at $14.99. Additionally, you can watch it on Redbox On Demand and FandangoNow, where it's also available for rental or purchase.
Free Streaming Options
If you're on a tight budget and don't feel like paying for the movie, we've got good news for you. You can stream it for free on Peacock Premium, which offers a 7-day free trial before you'll be charged $4.99/month. Alternatively, you can sign up for a free trial on Paramount Plus, which offers a 7-day free trial before you'll be charged $4.99/month.
Torrenting and Piracy Warning
We know that some of you might be tempted to torrent the movie or look for it on shady streaming sites. However, we strongly advise against it. First, it's illegal and carries the risk of getting caught and facing severe consequences. Second, the quality of the movie might be compromised, with low resolution, bad sound, and more. Third, by supporting piracy, you're hurting the movie industry and the hard-working people behind it. So, please, don't pirate this movie or any other movie.
VPNs for Geo-Restrictions
Another thing that you might face when trying to watch Werewolves Within is geo-restrictions. Some streaming platforms might not be available in your country or region, or the movie might not be available in your country's library. In such cases, you can use a VPN to bypass the restrictions and access the content you want. A VPN encrypts your internet connection and routes it through a server in another country, making it appear as if you're located there. Some of the best VPNs for streaming are ExpressVPN, NordVPN, and Surfshark.
Final Recommendations
All in all, Werewolves Within is a must-watch for horror fans who are looking for a fresh and funny take on the genre. It's a movie that'll keep you guessing until the very end while making you laugh out loud along the way. So, grab some popcorn, invite your friends over, and get ready for a howling good time.